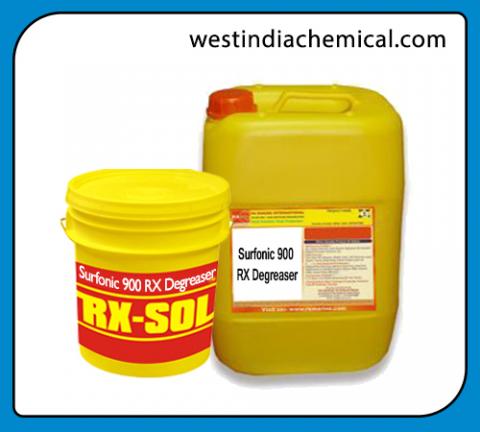 Surfonic 900 RX Degreaser
Product Delivery Locations:
Kandla, Gandhidham, Mundra, Sikka, Jamnagar, Surat, Navlakhi, Porbander, Pipava, Dehej, Hazira, Okha, Vadodra, Ahmedabad, Rajkot
Non Ionic Surfactant having very good Degreasering Emulsifying Property.
Product Description:
SURFONIC 900 Rx  is the surfactant  . It is a water soluble, nonionic surface-active agent which is compatible with other nonionic surfactants and with most anionic and cationic surfactants. It has highly degreasering and emulsifying capacity which remover oil and grease, stain etc, easily.
Product Application:
SURFONIC 900 RX is a multipurpose, effective and versatile surfactant finding applications in a number of diversified industries. It has excellent degreasering, emulsification, detergent, penetration and dispersion properties.
Wetting agents
Degreaser
Detergents
Penetrants
Solubilizing agents
Dispersants
Emulsifiers
Product Procedure:

Degreasing :   SURFONIC 900 RX  is powerful degreaser and  detergent at low concentrations. Therefore, it is use in the removal of heavy greases and industrial metal cleaning. Dose depends on cleaning application.
Textile : SURFONIC 900 RX  is useful as a powerful wetting and sourcing agent in many textile processing applications. It also aids bleaching, desizing actions due to excellent wetting and penetration action. It is non-substantive to wool and can be used for scouring greater poundage of wool than anionics. It is also useful in dye leveling and kier boiling operations.
Agriculture : SURFONIC 900 RX is useful as a non-ionic component along with anionic surfactant for formulation of emulsifiers for pesticidal sprays.
Leather :  SURFONIC 900 RX  is useful as an ingredient in the formulation of tanning agents.
Paints : SURFONIC 900 RX is useful as pigment wetting and as an emulsifier in paint formulation.
Detergents : SURFONIC 900 RX  is useful at low concentrations for formulation with anionics to obtain improved detergency. Blended with quaternary ammonium compounds it can yield germicidal cleaners for institutional cleaning. It can also be formulated as a liquid detergent with softeners.
Product Note:
TOXICITY AND SAFETY : For information on the toxicity and safe handling of this product, read the Material Safety Data Sheet prior to use of the product.

HANDLING AND STORAGE : SURFONIC 900 RX surfactant may be satisfactorily stored in carbon steel tanks using steel pipes and pumps. Caution must be exercised, however, to keep the material in the anhydrous state to prevent severe corrosion to the carbon steel tank and related equipment. A drier on the breathing nozzle is recommended to help maintain anhydrous conditions in the storage tank.

For longer term color stability, it is recommended that the product be stored under an inert atmosphere. Solid sediment may form upon standing. There should be circulation in the storage vessel to keep solids suspended.
Low pressure steam coils in storage tanks and steam tracing of transfer lines should be provided in cases where low environmental temperatures may make pumping of the product difficult.

SHIPPING DATA : Product is available in tank cars, tank trucks, canes, Catboys and drums of (220 Kgs) net weight.
 
BIODEGRADABILITY AND ENVIRONMENTAL SAFETY : SURFONIC 900 RX surfactants and related products have been shown to undergo 90% to 100% loss of surface activity (primary biodegradation) under the Semi-continuous Activated Sludge Method and over 90% removal in sewage treatment plants.
Product Technical Specification:
| | | |
| --- | --- | --- |
| Property |   | Specification |
| Appearance | : | Clear and substantially free of suspended matter |
| Cloud point, C       | : | 52 - 56 |
| Color Pt-co | : | 100 Max |
| pH, 1% in 10:6IPA:H2O | : | 6.5 - 7.5 |
| Flash point, PMCC, °C | : | 238 |
| Pour point, °C | : | 4 |
| Density, g/ml at 25°C | : | 1.08-1.11 |
| Viscosity, kinematic | : | cSt at 25°C (77°F) 278 |
|  Vapor Pressure, Torr, 25°C | : | <1x10-5 |
|  Surface Tension, dynes/cm, | : | 0.10% at 25°C 30 |
Product alias:
NPE-9, Non Ionic Surfactant
Supplier:
Degreaser supplier in Kandla, Gandhidham, Mundra, Sikka, Surat, Gujrat.
All types of degreaser can be classified broadely in 2 class : 
1st one is Solvent emulsifier Based  and 2nd one Water based product.  Solvent Emulsifier based degreaser has strong emulsification power with water, which easily dissolves all kinds of oily greasy and soiled materials. Its principal property are based on hydrophobic and hydrophilic nature. Chemically it reacts with all types of oil and gives watersoluble property, Its unique property makes most popular in all types of Industrial cleaning.  Water Based Degreaser is biodegradable and easy to handle compare to Solvent based degreaser. Its cleaning action is limited and suitable for general purpose cleaning, However RXSOL group has developed various grade of water based degreaser which can also emulsify Bitumen / Asphalt range of petroleum product. Depends on utility and emulsification our degreaser have more then 27 class. You may feel free to mail us full details of your requirement and field of application, our expert are ready to assist suitable product.
Distributor:
Ship Chandlers in Gandhidham / Kandla, Mundra, Sikka - Jamnagar, Surat Gujrat.
Manufacturer:
RXSOL brand degreasers are popular in Gujrat Heavy Industries and also playing leading role in Marine Shipping Industries.
Exporter:
RXSOL brand Degreasers are widely accepted and export to Russia, Middle East, Oman, Bahrain, Kuwait.