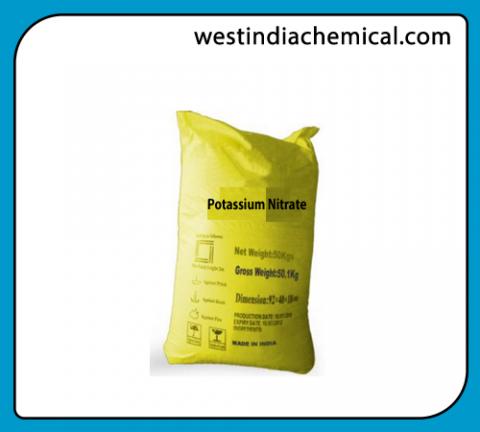 Potassium Nitrate
Product Delivery Locations:
Kandla, Gandhidham, Mundra, Sikka, Jamnagar, Surat, Navlakhi, Porbander, Pipava, Dehej, Hazira, Okha, Vadodra, Ahmedabad, Rajkot
Potassium Nitrate NOT FOR SALE
Product Description:
Potassium Nitrate exporter and supplier in various packing size.
Potassium Nitrite is white to gray crystalline solid. Water soluble. Noncombustible, but accelerates the burning of combustible materials. If large quantities are involved in fire or the combustible material is finely divided an explosion may result. May explode under prolonged exposure to heat or fire. Toxic oxides of nitrogen are produced in fires. Used in solid propellants, explosives, fertilizers.
Product Application:
Potassium nitrate suitable for multiple uses.
Product Note:
Reactivity Alerts

Strong Oxidizing Agent

Air & Water Reactions

Soluble in water.

Fire Hazard

Special Hazards of Combustion Products: May produce toxic nitrogen oxides upon decomposition.
Behavior in Fire: Strong oxidizer which may react explosively when mixed with reducing agents. Mixture may detonate by heat or shock. Increases the flammability of any combustible material. (USCG, 1999)

Health Hazard
Exposure can cause mild irritation of eyes, nose and throat. (USCG, 1999).
Product Technical Specification:
Physical and Chemical Properties :
Form
Solide / Powder
Colour
White
Odour
Odourless
Odor Threshold
No Information Available
pH
6- 8 - 5% Solution
Melting Point
334 °C
Boiling Point
400°C @ 760 mmHg
Flash Point
Not Flammable
Evaporation Rate
Not aplicable
Flammability (solid, gas)
Not Applicable
Explosive limits
Upper : No Information available
Lower : No Information available
Vapour pressure
No Information available
Vapour Density
No Information available
Secific Gravity
No Information available
Decomposition Temperature
>400 °C
Partition coefficient
No data available
Desity
2.1 @ 20 °C
Solubility
Soluble
Viscosity
Not Applicable
Molecular Formula
K N O3
Molecular Weight
101.1