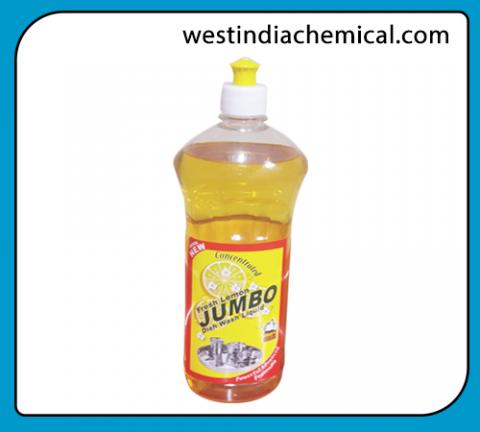 Dish Wash 20 Ltr
can be used for conventional dishwashing applications. Dilute solution can be applied to the surface and rub with a sponge and then rinse with clean water.For general cleaning, optimum dilutions of 1:30 will be ideal. For oily and dusty surfaces, 1:10 dil
Product alias:
Dish Washing Liquid, Dishwashing Detergent.
Product Delivery Locations:
Kandla, Gandhidham, Mundra, Sikka, Jamnagar, Surat, Navlakhi, Porbander, Pipava, Dehej, Hazira, Okha, Vadodra, Ahmedabad, Rajkot
Product Description:
PRODUCT DESCRIPTION :

Rxsol  DISH WASH LIQUID is a highly concentrated, neutral liquid detergent, golden yellow in colour, with a floral fragrance. It is very active and when diluted as recommended, is suitable for all manual cleaning and dishwashing, in household and institutional applications.

Rxsol DISH WASH LIQUID is a blend of special detergents for tough action against grease, fats, and other deposits. The coupling solvents incorporated in it helps it go into solution instantly, penetrate contamination and rapidly emulsify and disperse any residues. It is effective in soft and hard water, hot or cold. Rxsol DISH WASH LIQUID is specially formulated for efficient cleaning, with quick and spot-free rinsing.

FEATURES :                                                                                               BENEFITS :
* Highly concentrated                                                                              * Economical
* Contains special detergents & coupling solvents                          * Cleans efficiently and almost instantly
* Contains perfume                                                                                 * Leaves a lingering fresh fragrance

DIRECTIONS FOR USE :

Rxsol  DISH WASH LIQUID can be used for conventional dishwashing applications. Dilute solution can be applied to the surface and rub with a sponge and then rinse with clean water.For general cleaning, optimum dilutions of 1:30 will be ideal. For oily and dusty surfaces, 1:10 dilution ration, together with efficient scrubbing and warm water will be adequate.

CHARACTERISTICS:
| | |
| --- | --- |
| Appearance   | Orange, moderately viscous liquid |
| Odour   | Lemon |
| Specific Gravity | 1.01 - 1.02 |
| Solubility | Water soluble in all proportions |
| Flammability | Non-flammable |
| pH of Concentrate | Typically 7 |
| pH of Solution | Typically 7 |
| Use Concentration   | Neat/diluted as above |
| Use Temperature | Diluted with either warm or cold water |
| Corrosive Action | Non-corrosive |
| Packaging | Cartons of 12 x 1 litre and 24 x 500 ml plastic containers |
| Storage Condition | Store in closed |
HEALTH AND SAFETY INFORMATION:

Safety Advice                     : Rxsol DISH WASHING LIQUID is not considered harmful to the skin, however, for use over an extended            period, gloves should be worn. The product is safe on naked hands, unless the user's skin is sensitive.
First Aid                              : Wash splashes from skin with soap and water. For splashes to eyes, flush thoroughly with water. If swallowed,     DO NOT INDUCEVOMITING, give water or milk to drink. Medical attention should be obtained following splashes to eyes or if swallowed.
Spillage                              : Mop-up spillage or absorb with a mineral absorbent.
Product Application:
 Suitable for cleaning dishes and exhast gas deposits. Excellent for sinks, basins, shower tubs etc
Product Procedure:
When using the product directly on the sponge, dilute 1 part concentrate with 3 parts mwater. While filling the sink with water add small amount i. e. 1% - 50 % 
INGREDIENTS

Powder for machine

Dishwashing liquid

Fine fabric hand wash (liq)

Surfactants

 

14% C12 LAS

24% C12 LAS

15% C12 LAS

 

3% Alcohol + 6EO

5% C12 Sulfate

10% C12 ether Sulf.

Foaming agent

 

5% Coco amide

5% C12 DEamide

Antifoaming

3% C18 soap

 
 

Hydrotope

 
 

Builder

48% STP

 

15% C12 Sulfobetaine

Alkaline

10% Na Silicate

 
 

Salts

13% Na Sulfate

 
 

Antiredeposition

0,3% CMC

 

0,5% CMC

Other

 

1% latex

 

Water

 

60% with 5% ethanol

55% with 4% urea 
Characteristics:
Removes grease, oil, carbon deposits, soil and grime.
Keeps loosened deposits in suspension preventing re-deposition.
Low toxic.
Biodegradable.
Non-flammable.
Free from hydrocarbon solvents.
Effective and economical in use
Water-based cleaner.
RXSOL-16-1501-035 has numerous cleaning applications including removal of greases, waxes,oil, sludge, soot, carbon deposits and general dirt and grime.
Non-corrosive to ferrous metals
Suitable for all tank-coatings.
Can be used for gas and hydrocarbon freeing of tanks.
Can be used for deodorizing.
Contains wetting agents.
Leaves surfaces residue free.
Acceptable for use in food areas.
Suitable for accommodation cleaning of woodwork, leather, desks, etc.
Suitable for cleaning of toilets and showers.
Suitable for cleaning of reefer boxes.
Can be used for cleaning of windows and portholes.
Can be used for cleaning of dishes.
Can be used for cleaning of hospitals.
Can be used for hand laundry cleaning.
Product Technical Specification:
Product Note:
IMPA-550180
A strong alkaline detergent in powder or liquid for use with any type of dish washing machine. Creates very little foam. Please pay attention of mixing  density with water according to the instruction of usgaes from each manufacturer.