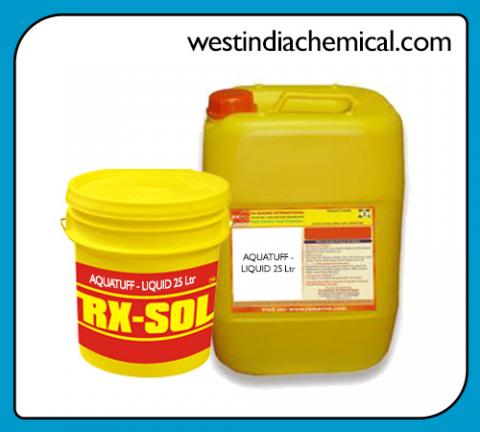 AQUATUFF - LIQUID 25 Ltr
Product Delivery Locations:
Kandla, Gandhidham, Mundra, Sikka, Jamnagar, Surat, Navlakhi, Porbander, Pipava, Dehej, Hazira, Okha, Vadodra, Ahmedabad, Rajkot
Generic Name:
Alkaline ship hold cleaning chemicals
Very effective Emulsifier - Alkaline based cleaner with good high foaming nature for use in hold cleaning and general degreasing. its heavy molecular surfactants rapidly reacts with water and produce effective cleaning solution.
Product Description:
Very effective Emulsifier - Alkaline based cleaner  with good high foaming nature for use in hold cleaning and general degreasing. its heavy molecular surfactants rapidly reacts with water and produce effective cleaning solution. May be applied by brush, hand spray and by high and low pressure washing machines.
It is a strong water based alkaline cleaner primarily designed to provide numerous cleaning applications including:
•    Cleaning of vegetable oils, animal oils, fatty acids, fish oils, grease, waxes, oil, sludge soot, carbon deposits and general dirt and grime.
•    Cleaning of inert gas soot in cargo tanks.
•    Cargo hold cleaning after coal and pet coke.
It is a heavy duty non corrosive concentrated cleaning compound soluble in fresh and salt water , also suitable with high presure cleanig machines. Ideal for difficult cleaning problems faced in industrial and other plants,  Very effective degreaser which removes dirt, oil and grease from the equipment, parts, components, engines, floors and walls etc.
 
AQUATUFF LIQUID - HD (RXSOL-22-3030-25)
The Importance of Aquatuff  by High-Pressure Cleaning
The job of high pressure cleaning can be done easier & quicker by simply using RxTuffin correct dosages. Using a high pressure cleaner alone, without any CLEANER, will not  achieve  optimal cleaning results High-pressure cleaning primarily refers to cleaning of Hard  surfaces, such  as Decks, Tanks, Engine-rooms, etc. and in the majority of cases the cleaning is done according to the so-called two-step method:
Step 1:  Spraying the  Aquatuff over the area to be cleaned.
Step 2:   Washing down the area using a high-pressure water jet.
After the Aquatuff has been  sprayed on the surface and  before the wash down begins, the chemicals penetrates & thoroughly moistens dirt & other grime. During wash down, the RxTuff thoroughly dissolv- es the particles of dirt, even oil and fat, in the water spray and thus achieves optimal cleaning results.In addition to being more effective, the use of RxTuff substantially reduces the time required for the Cle -aning operation, as well as preventing dirt from reforming on the surface. The use of RxTuff in correct dosages is half the job done.
3 Pieces of Good Advice:
Apply  Aquatuff on dry surface where possible! A dry surface will absorb far better than a wet surface. When applying RxTuff on vertical surfaces: Start application from the bottom and work upwards! If beginning from the top and going downwards, the Aquatuff may produce "channels" down the surface, thereby running too fast off the surface. During high pressure cleaning: It is important that the rinsing water does not run over non-cleaned surfaces! The rinsing water can draw soap from the surface if running over non-cleaned surfaces. High pressure together with optimum concentration of Aquatuff will give the best effect .
Product Description:- Aquatuff is a superior & powerful alkaline cleaner containing corrosion inhibitors to prevents the corrosion of   metals . It is low toxic product with an exceptional solvency power on soil & oily  matter & having good foaming qualities. It is free from Hydrocarbon solvents , Biodegradable and minimizes the extreme hazards to personnel in handling materials .
Applications:- Aquatuff Suitable for cleaning engine components like fuel and  Lube oil filters, Injection nozzles, pump components, inlet  and  exhaust valves &  primarily refers to cleaning of  hard surfaces, such as Decks, Tanks, Engine-rooms,  etc. can be used for all  types of cleaning and degreasing and  may be applied by brush, handspray, high and low pressure washing machines etc.
Directions for Use and Dose Rates:
General Cleaning:-  Aquatuff can be used for all types of cleaning &  degreasing & may  be applied by  Brush, Hand spray, high and low pressure washing machines etc. Time necessary for cleaning depends on the nature and  thickness of the deposits. 20-30 min. will suffice for   most applications. Hardened, carbonised or aged deposits may require up to 4 hours. If  the cleaning  solution is not heavily contaminated, it may be re-used at a later stage. If allowed to cool, the de-gassing procedure must be repeated. Depending on degree of contamination Aquatuff should be mixed with warm water at a rate of 50-200 ml   per 10 litres. i.e. 1 cup of RxTuff to a bucket of water. RxTuff solution can  be applied  simply by mops, brushes or rags, or by dipping the soiled articles into  the Aquatuff solution. After cleaning, rinse off with cold or warm water. Due to high foaming properties, Aquatuff is not recommended for washing machines.                        

•    Ideal for cleaning after coal and pet coke. Tank Cleaning:-Cargo tank cleaning to remove residues of Mineral, Animal, Vegetable or Fish oil, Waxes  &  Soot from inert gas systems.
Method of Application and Dose Rates:-
Direct injection method for tank washing machines. Dose rate 1-5 litres per ton wash water (0.1-0.5%).
Recirculation method. Dose rate 1-7 litres per ton wash water (0.1-0.7%).
Spot cleaning. Hand spray neat or diluted with up to 5 parts water and leave for several minutes before rinsing off with clean water.
Cleaning of Cargo Tanks to Remove Soot from Inert Gas Systems:-
Spray Aquatuff  on with a high pressure cleaning machine and  use 1:6 with water. If used with hand sprayer, spray  the product  neat onto the surface, allowing 1 lit. for every 12 m2. Use a 5-8% solution in a tank washing machine.
Leave for about 30-45 minutes. The surface should be kept wet.
Wash down with hot water (80°C) and check the cargo tank.
Repeat the procedure if necessary.
Note:- Whenever possible, the cleaning solution should be heated to 60-80°C.If this method is not possible, other conventional methods such as separate rate direct injection, recirulation   or hand spraying provide acceptable options.For boiler  fire  side  cleaning, a 10-20 % hot  solution, (temp. above 40°C),  should   be  sprayed on  to  the surfaces to be cleaned. Allow to  penetrate for 20 minutes and flush off. For deposits  which are very hard to remove, increase the concentration to 50% and repeat if necessary.
Product Application:
Cargo tank and Cargo hold cleaning
AQUATUFF LIQUID  can be used for tank cleaning after animal, vegetable and fish oil, petroleum waxes, and for cargo hold cleaning after soot, coal, pet coke and other bulk materials using the following methods -

•    Direct injection method with tank washing machines: Dosage rate 10-15 lts. per 1000 liters wash water (1-5%).
•    Recirculation method: Use dosage rate of 20-50 liters per 1000 liter wash water.
•    Spot Cleaning: Hand spray neat or prepare a 10-20 % solution. Leave for approx. 30 minutes before rinsing with water. Keep surface wet.

Pre-Wash
Before cleaning tanks with AQUATUFF  is recommended to pre-wash cargo tanks with hot water 50-60 0C.
For Drying oils and semi- drying oils a prewash of the tanks with cold water should be applied.

The efficient operating temperature varies and is depending upon the type of cargo residues which are to be cleaned. In cases like Palm oil residues the optimal solution temperature is between 55-65 0C at the tank cleaning machine nozzle. Higher temperature tends to bake on the residues rather than removing them.
Hydrogenated oils contain stearic acid with melting point of approx. 70 0C. to clean such cargo residues successfully, a temperature between 72-77 0C at the tank cleaning machine nozzle must be used.


 
Product Procedure:
20-50 % with fresh water . Also acts as an acid-neutralizing agent for Boiler & Colling systems during cleaning & maintenance.
Heavy Soil deposition                   Use Undiluted from to 20-50% diluted with water. 
Medium soil deposition                 10-20%  diluted with water. 
Light Soil ( general degreasing )   5-10% diluted with water.

can be used for different types of cleaning, and it can be applied by brush, hand spray, High & Low pressure washing machines, by Direct Injections method but is mostly used by Recirculation method.

Removal of soot from Inert Gas Systems (IGS)
1.    Apply AQUATUFF - LIQUID  with a H.P. cleaning machine and use 1:4 with water. If used by hand spray, apply neat on the surface @ 1 ltr per 12m2.
2.    Leave for about 30 – 45 minutes. The surface remains wet.
3.    Wash down with hot water at around 800 C. Repeat procedure 1 to 3, if required.    
Product Note:
As per guide line of IMO MEPC.1/Circ.590. February2008.
Removes grease, oil, carbon deposits, soil and grime.
Keeps loosened deposits in suspension preventing re-deposition.
Low toxic.
Biodegradable.
Non-flammable.
Free from hydrocarbon solvents.
Effective and economical in use.
Water-based cleaner.
AquaTuff has numerous cleaning applications including removal of greases, waxes, oil, sludge, soot, carbon deposits and general dirt and grime.
Non-corrosive to ferrous metals.
Suitable for all tank-coatings.
Can be used for gas and hydrocarbon freeing of tanks.
Can be used for deodorizing.
Contains wetting agents.
Leaves surfaces residue free.                  
Acceptable for use in food areas.
Suitable for accommodation cleaning of woodwork, leather, desks, etc.
Suitable for cleaning of toilets and showers.
Suitable for cleaning of reefer boxes.
Can be used for cleaning of windows and portholes.
Can be used for cleaning of dishes.
Can be used for cleaning of hospitals.
Can be used for hand laundry cleaning.
Leaves no white stripes/ deposits on tank surfaces after washing with hot solution.
Very powerful alkaline cleaner based on strong anionic surfaces active agents and alkaline salts.
Cleans vegetable oils, animal oils, fish oils, greases, waxes, oil, sludge, soot carbon deposits and general dirt and grime by thorough saponification.
Very efficient for removing inert gas soot (IGS) residues from cargo tanks.
Contains no hydrocarbon solvents.
Safe to used on epoxy coating, polyurethane coatings and in stainless steel tanks
Does not contain nonyl phenol ethoxylates or other estrogenic compounds.
Has excellent deodorizing properties, removing odours of aromatic solvents, fish oil residues .
Biodegradable.
Product Technical Specification:
SPECIFICATIONS of PRODUCTS
•    Appearance             : Pale Clear Liquid
•    Specific gravity        : 1.065
•    Flash Point              : None
•    pH-value at 200C   : >12
CLEANING AND MAINTENANCE CHEMICALS AQUATUFF HIGH FOAM under HS Code 34029011 this products are kept under degreasing preparations, synthetic detergent, detergent powder, surface active, cleaning treatment.
RXSOL brand is largest supplier of aquatuff high foam Nhava Sheva Sea, Mundra and Kandla, Chennai, Visakhapatnam. Ennore, Dhamra, Kolkata, Ennore, Paradip. 
Average price of aquatuff high foam per unit is USD 1 and we are providing ready stock of aqutuff in all coastal of INDIA and Middle East.
Product pack size:
20, 25, 50, 210 Ltrs. And also available in 1000 Ltr IBC Tank. MAIL us for factory sale price. Largest saler of Aquatuff in Mumbai, Kandla, Vizag - Visakhapatnam, Gangavaram, Kolkata - Haldia, Chennai - Ennore, Fujairah, Dubai, Sharjah Middle East.
Supplier:
Aquatuff supplier in Mundra, Kandla Gandhidham, Surat, Navlakhi, Gujrat.
Distributor:
Ship Chandler distributor in Gujrat.
Manufacturer:
West India Chemical International keeping ready stock of Aquatuff in Gandhidham to fulfill demand of Mundra, Kandla and Sikka port. While our Surat location cover dahej port supply. RXSOL brand aquatuff manufacture in Mumbai and distributed through our all supply parnter in all ports of INDIA.
Aquatuff high foam hold cleaning chemicals classified as universal cleaner for Ship Hold Block. We are working with this chemicals since 1995 and we observed that before Hold cleaning if  we planned to keep following chemicals, cleaning operation becomes very easy - 
Metal Brite - Helpful to remove rust from metal surface, specially from joint section. Metal brite chemically not only removes rust, but also neutralize rust. 

Paint Remover - Removes loose paint from hold area without manual chipping and hammering action. As manual cleaning operation kills more time as well as required extra manpower. 
Degreaser - Helpful to clean oil grease surface, without extra force. As degreaser completely emulsify oily and greasy content. Cleaning of oily area is taking more time, if proper emulsification of oil grease not done. If you have degreaser on board, simply apply and spray on contaminated area and leave for 10 minutes then finally wash hold with AQUATUFF to get optimum result. 
Hold Block Slip Coat - Very important parts of chemicals. Before loading of cargo, If hold block applied. Then there is no more time required for next cargo loading. RXSOL hold block is polymer based materials, which can be applied with water mixing. After application of hold block a thin transparent layer of polymer will form, which prohibiting direct contact of cargo from hold. And during next cargo loading simple water flush is required to clean complet hold. 
Bilge Coat - Helps to neutralize acid which is formed during sulfur and salt etc...
Ship marine cleaning detergent, Hold cleaning chemical, Alkaline cleaner
Ship hold cleaning chemical general procedure of cleaning...
Aquatuff High Foam is commonly used during ship hold cleaning as an alkaline cleaning detergent. Its main feature is to provide good detergency effect with high foam cleaning action during high-pressure cleaning machine. Port-like Mundra, Tuticorin, Kakinada, Ennore, Haldia, Paradip, Gangavaram - Vizag handling more dry cargo like lime, coal, cement etc to full fill demand of local industries. After discharging of cargo ship always have priority to clean cargo residue on the priority basis, As balance deposited cargo not only damaging metal surface by its corrosive nature as well as moisture absorbed by cargo products but also balance cargo restricting next cargo loading on the ship. If next cargo of ship is other then previous cargo then cleaning and removal of residue as well as deposition of stain becomes necessary. During this Aquatuff plays very important role for the general wash. Its high foam nature can sustain on the vertical surface for more time to result in good cleaning effect. Aquatuff high foam application and cleaning manual are very simple If high pressure available on the ship then dilute Aquatuff high foam with a ratio of 1 : 5 to 1 : 20 depends up on contamination and residue effect. Then apply to the entire surface area and finally rinse with hot water ( if possible ), the Same process can be repeated if more cleaning required.  If high-pressure machine not available on the ship and manual cleaning required, then apply Aquatuff high foam to the entire surface area and flush entire surface area before with hot water / normal water.
If the vessel has specific cleaning requirement for removal of coal stain, cement deposition cleaning, lime deposition removal and many typical cleaning where specialized chemical required. Our continuous work in this field since 1995 has given an opportunity to develop 
more than 100 specialized product for SHIP HOLD cleaning
. Globally such huge range of cleaning product for ship hold you can't get other then RXSOL product range which covers Cement Remover, COAL REMOVER, Bilge Coat, HBI CARGO Hold Wash Concentrate, PCS Hold Clean, Seacleaner, Slip Coat RXSOL HOLD BLOCK, Hold Wash Concentrate, Sodium Hypo Chlorite (12-15%), Muriatic Acid  Full Strength, Lime Remover HD etc. 
Aquatuff Supplier in Mumbai, JNPT,Pirpav,  Surat, Kandla, Sikka, Mundra, Gandhidham, Navlakhi, Manglore, Goa, Kakinada, Vizag - Visakhaptnam, Gangavaram, Chennai, Ennore, KARAIKAL PORT, Kolkata - Haldia, Paradip - Buj buz All India coastal
Shiping Industries, Oil Field Industries, Marine Industries. Aquatuff is biodegradable alkaline cleaner.  AQUATUFF is very useful alkaline detergent for cargo hold cleaning chemicals.